How do you see a problem? – Dead end or exiting new opportunity? You could be categorised as someone with a fixed mindset or a growth mindset.
---
Once in a while we all encounter a new problem. We crib about the nonexistence of a solution, and then… do nothing about it! The problem lives on and we move on. We wait for someone else to solve the problem. In due course of time, we come across people who make it a success - by solving those exact same problems that we choose to overlook. This is the nature of all problems; it provides the opportunity that we oversee. It is in the attitude of successful people to spot the gap and build that bridge.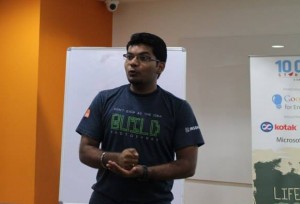 In50hrs Delhi edition saw some amazing prototypes getting built. There was enormous energy from the participants towards collaboration, in the effort put, and the final outcome. It all just came though with what they created in just 50 hours. We spoke to Sajan Mathew and his team and got a share of their mind space.
They built LetsFoodify, an online guide and review platform that puts dishes back as the main focus. Next time you are craving to eat that Hyderabadi Biryani, you already know which restaurant serves the best. What a cool disruption – we say!
---
In50hrs: Tell us a little bit about your Team? Names of the core members/occupation/hobbies etc.
LetsFoodify Team (LFT): Team LetsFoodify is a four-member team of Sajan Mathew, Rohan Gupta, Amit Kumar Swami and Tapish Rathore. Sajan Mathew is an automotive engineer working with an automotive regulatory body. He has got interests in developing UI/UX, product designing, product branding and marketing. He loves traveling, exploring new places, a big foodie and loves to cook.
Rohan Gupta is Software Developer. He is a travel freak, a big foodie and loves to hangout. Sajan Mathew and Rohan Gupta have known each other from school. They have recently co founded a startup venture in Food+Tech domain called BigFoodTheory. They have recently launched their first early beta product called LittleBakeFactory, which is an online platform to discover home bakers. They are also working on their second product called Mealmonk, which is a cash back based customer reward program for restaurants and cafes.
Through In50hrs we got to meet Tapish Rathore and Amit Kumar Swami. Tapish is a Software Engineer at Nucleus Software Exports Ltd. He has interests in reading and following blogs and articles related to technology, webcomics, philosophy and travel. Amit Kumar Swami is an Associate Technical Analyst at Nucleus Software Exports Ltd. He loves programming, music, gaming and travelling. Tapish and Amit studied together during engineering at IIT (Mandi).
In50hrs: What was the inspiration/process behind the idea of the product? (How did you all decide what to build)?
LFT: The first inspiration for the idea came when I visited Pune for the first time. I was new to the city, hence had no idea about the specialties in the city. 'Yahan Khane me special kya hai' (What is the special dish to eat here?). I used to either ask the locals or try to Google. There were so many recommendations from blogs, foodie groups and people. It is impossible to find the popular food joints, as they are small shops or dhabas with no presence on the major listing sites.
During the market research and validation for our other product Mealmonk, we discovered that almost every foodie like us struggles to find popular foods and the food joints whenever they are in a new city.
We feel that good food is the first thing that drives anyone to an eating outlet. The way to anyone's heart goes through his or her tummy. : D
In50hrs: What were the main problems encountered while building the product? How did you overcome it?
LFT: As an IdeaSmith, it was quite challenging for me to win the heart of the app developers who would be powering the idea. Fortunately, my pitch and the answer to their queries were quite convincing and the interaction prior to the pitch got me 3-4 people interested to work on this idea. Finally Tapish and Amit joined us.
For Tapish and Amit, it was lot more challenging to build this product. They both are iOS developers. They had some Android experience but that was 2 year ago, and the current android development has been through lots of changes. So building a product in Android in just one day was an uphill task. Also, on the technical front, using the NodeJS/MongoDB combination was new to them. Moreover, the time available for development was severely small, they had to skip sleeping the whole of Saturday night.
In50hrs: Tell us about the overall experience at In50hrs….
LFT: The overall experience was great. We got to meet lots of interesting people - including our teammates, and came across interesting ideas. We got to interact with experienced people who had already started a venture or two, and got to learn from their experience. Overall, it was an amazing experience.
In50hrs: If you could share with us the overall take/achievement from the event and how it will help you in the future…
LFT: The overall achievement for us was that we will launch an app in few weeks, which would not be possible without this event.
In50hrs: Any piece of advice.
LFT: It will be great if the prototype building can start from the first day (Friday) itself. It will give the team more time to work together, and come up with a better prototype.
In50hrs: Finally, the future plan…
LFT: We will be launching the app in coming weeks, first on an android platform, followed by iOS and Windows. We will be looking at improving the user experience, content quality, and downloads through feedbacks. We will be exploring other possible uses of this app apart from finding good food.