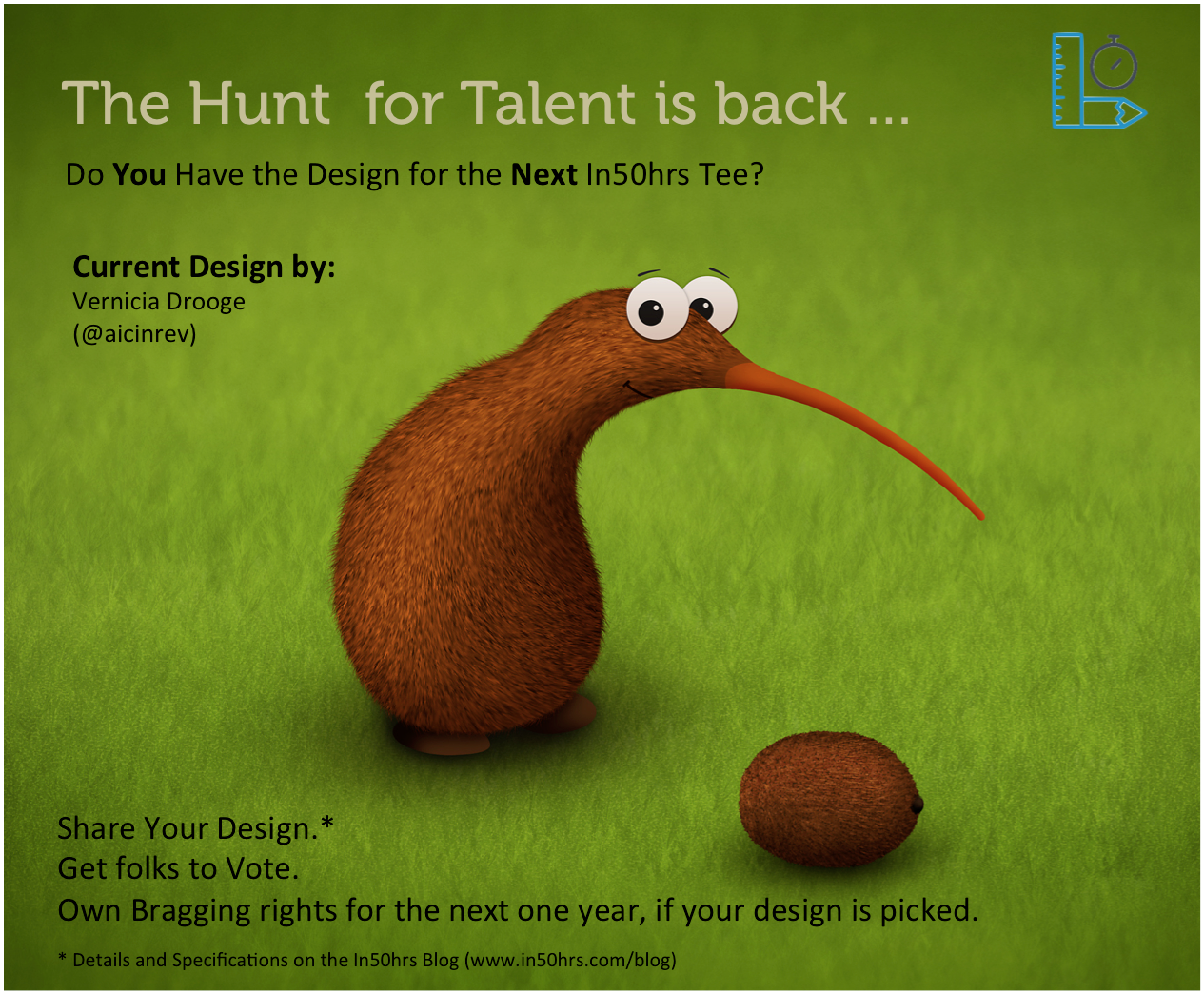 We love the community, and when it comes to being given a face, we ask the community to come up with their own works of art that represent what we do at In50hrs.
Almost a year back, we ran a contest for the In50hrs T-Shirt design, and quite honestly, we were floored. We didnt anticipate that there would be this many talented folks out there, with so many varied ideas, putting them into a design and participating. But they did. And a few of them really stood out.
Our Current "Genius Mode On" was picked as the winner - and was designed by Vernicia Drooge.
That T-Shirt design has been our defacto for a bit more over than a year now and we thought we would design a new one - why? Because as organizers we want some new tees (really, its the truth.) And also we want to see what other new design ideas are out there.
We did get some very valuable feedback when we did this last time, so putting all of that together, we thought we'd give a little bit more specifics on what we are looking for:
Guidelines:
1. A design that represents In50hrs - the ideation, the building, the coming together of ideas, developers, designers, the clock of 50 hours - that should give you a hint of how to think.
2. A design that is unisexual - we got a few designs last time, that women might not be able to wear. Keep in mind that the design has to fit both.
3. We have decided that instead of the usual black and white, we want to go with a shade of tee in our own custom color - so we are going with a brown. If you want it in hex, its #332217
4. Leave space for Sponsor logos on the Sleeves - left and right arm
5. We print these t-shirts in the best quality possible, which means we do rubber prints, instead of screen printing which fades with the second wash. With Rubber/vinyl printing, the cost of the tee goes up by Rs. 25 - 40 for every additional color. So keep the colors in the design to a max of three.
6. Once done, upload the pics on the web, and paste a link to it in the Facebook thread.
7. Get folks to vote for it.
8. As of Nov 25th 2012, Midnight IST, the design that gets the most number of votes, will be picked.
If you have any questions, feel free to reach us over twitter - Officially at @in50hrs or personally - Vijay (@vijayanands) and Aditya (@adivik2000)