The idea of building a prototype does not materialize is vacuum. It takes immense amount of thinking, planning and strategizing to create something of value that can be further developed into a full-fledged product. Something that truly has the potential to grow into a product that is validated, and that is well received, and is destined to do well in the market.
In50hrs Trivandrum edition was held at DBG in the Techno park from 28 -30 November 2014. Although a barely sizable IT city, we received an overwhelming response in terms of the quality of the participation. Energetic, enthusiastic and beaming with ideas, each member was ready to make the best of the time at In50hrs.
We saw some very curious minds putting together ideas, intending to solving a real problem and crystalizing them into something that could be the next big thing. It showcased the talents that lie dormant in the smaller corners of the country, waiting for the right opportunity that could help them channelize it towards recognition.
Here are the few of the ideas that got built during In50hrs Trivandrum edition:
GlobalECommerce: The ideasmith Faiz Mohamed Haneef is a developer by profession; he came up with this idea when he realized he could find a way to search products from multiple Ecommerce sites across countries, offering the best available options to the end users.
ReportMe: George Mathew faced a real life problem that became an idea, which could become a real-time status-reporting app for pre-school teachers, alternative to sending 'daily-diaries' to parents.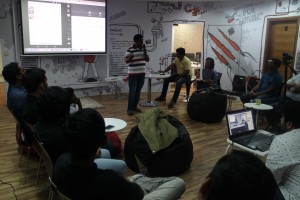 GreenBee: Anand M and his team conceive a hardware product that automatically waters plants based on soil moisture, sunlight, & temperature levels. They already came with the prototype that needs help in launching in the market with expert opinion and few altercations.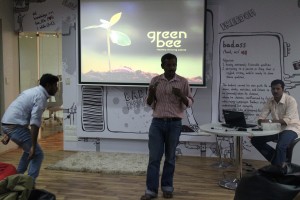 EventHunters: A platform for event organizers to locate the right venues that match their requirements. An enthusiastic bunch of friends, led by Rosh J Anthony and Akhil Raj, are working to solve the problem of event organizers in finding the right venues in a city and connecting to the right audience. After having made some headway in product development already, the team used the In50hrs platform to validate their methodology and to explore monetization opportunities by using prototyping as a means to tackle this multi-sided marketplace problem.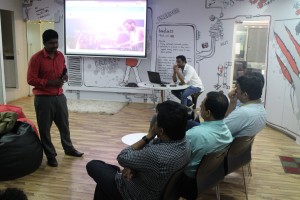 HealthApp: Abhishek J come up with the idea to create an mobile app to locate the right doctors in vicinity, and schedule an appointment with them.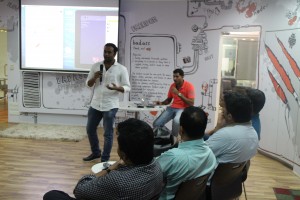 The next edition of In50hrs is planned out in Coimbatore. We have had great experience in the past, and with houseful registration, we look forward to what Coimbatore has to be offer from 19to 21st December 2014. The event will be held at Owler, who has been immensely supportive of our endeavors in the past.