Great amount of tussle for finish the prototypes fast.
The hotcake idea of the event was iWish.
iWish: A Social Network to Huddle and make your Wishes come true. Well, everyone has wishes. Some come true and some don't. Most don't come true as most dream of the craziest things possible. Nevertheless, they are dreams and there isn't a limit. So, there came iWish, from Radhika Singh and Milanpreet Kaur. iWish lets you add-in your dreams to their social network and lets you know if there is someone(like you) wishing for/dreaming about getting a similar dream, enabling you to huddle with such and live it for real.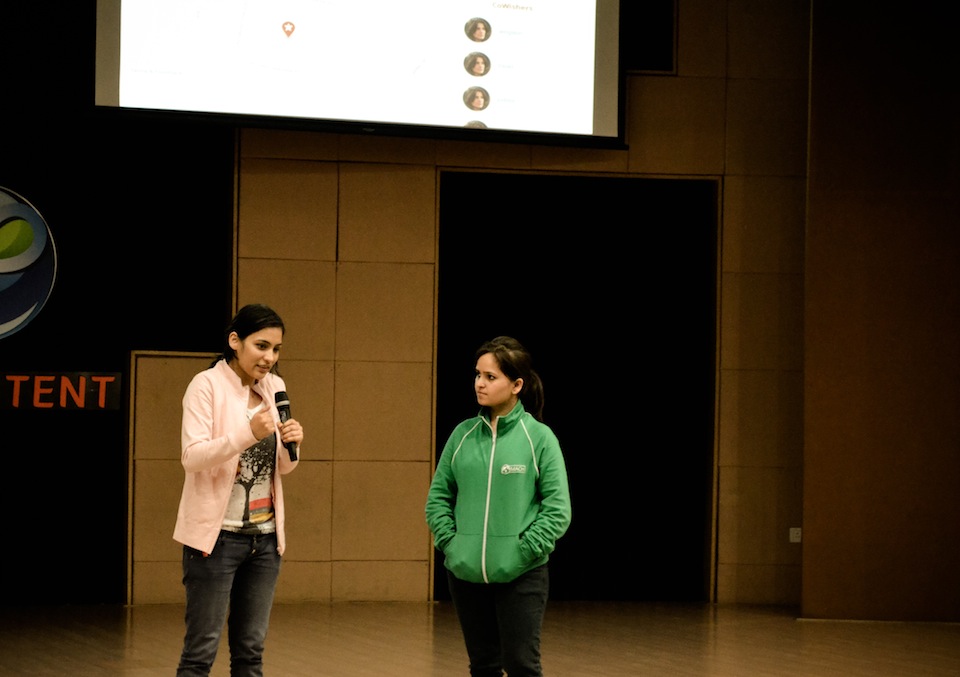 We had around 26 Participants with 7 Mentors and 4 Jurors at the Venue, Persistent Systems, showcasing 7 Prototypes on the Demo Evening.
List of Prototypes that got demoed:
Ubique: Add Topics to your Conversation. Google Groups, Facebook Groups, Whatsapp Groups have conversations happening all the time. But there comes a point when the group is left barren due to the lack of topics to talk about. Ubique is aims to solve that. How? By pushing-in new topics that are related to the past conversations in the group or anything breaking.
Pingstry: An App Database tailored to find the apps you are looking for. There are a zillion apps across various marketplaces. There is no simple way, yet, for anyone to find an app that they want other than typing in the name of the app. Pingstry lets you search based on categories, mix and match of features, and discover the apps you didn't know, they exist.
Event Kiosk: A iPad App to find in-event information. Finding who's at the event, who's speaking, who's who is a pain when one happens to drop-in at an event. Event Kiosk aims at solving the problem of getting the information right when people check-in at the event venue enabling them to discover all the information they want, on an iPad, docked at various points in the venue area.
FYIP: Authentic n Social Product Review Database. In the current era of Electronics, it's hard to find reviews that you can trust. FYIP aims to solve the problem by being a social base for authentic reviews where friends and family could easily make decisions of buying the products without having to budge too much on the thought process.
AdsHub: A New-age D2D2C Advertisement Platform for Mobile. Every Developer obviously wishes to see many, download his/her app and use it. But in reality, though a lot of love the app, the download doesn't quite skyrocket. AdsHub aims at enabling developers to publish ads of other apps in a peer to peer fashion hence enabling more downloads from the users.
Project Resolution: A Cheat Sheet for Android App Developers. It's a pain for an Android Developer to get real world, accurate information like Resolution, Touch Density, Battery and such about the current devices. Project Resolution is a cheat sheet that has all the information a developer would need before launching his/her app, hence enabling to pick the devices he/she would trust.
A Big Thank You to all the Mentors and Jury who helped shape Ideas to Interesting Prototypes with their valuable Inputs and Feedbacks.
Mentors - Akshay Mathur from ShopSocially, Sarang Lakare from IntouchApp, Amol Vedak from MobileWare, Aditya Kulkarni from Pubmatic, Sahil Khan from The Tossed Salad, Patanjali Somayaji from Motorola, Amit Dixit from FirstFuel Software.
Jurors - Roby John from June Software, Arun Prabhudesai from RedBus, Sagar Bedmutha from Optinno Mobiletech, Parag Dhanuka from Nexus VP.
Some great words about the event:
"Enthusiastic People All Around" - Akshay Mathur
"Best Event Attended Till Date" - Pratik Nikam
Facebook Album of the event -> https://www.facebook.com/media/set/?set=a.526239354076256.122227.427343437299182&type=1&l=087b27a6c0