Friday, November 30, 2012 at 6:14PM
In50hrs Bangalore was a blast! Great amount of energy and a ton of ideas got pitched.
The hotcake idea of the event was Design A-Board.
Design A-Board - An Interior Designer Palette on the Web. We all go through different interior designs magazines and dream about the picture perfect house while talking to an interior designer but when it comes to reality, we realize that as there is a huge communication gap between the designer and you as the mediums used are broken and there is not a simple solution for a designer to just showcase the best picks for the house like the type of flooring, the shades of paint and the subtle things for the decor. So came the Idea "Design A-Board" from an Interior Designer, Taru and the Hacker, Shubanshu.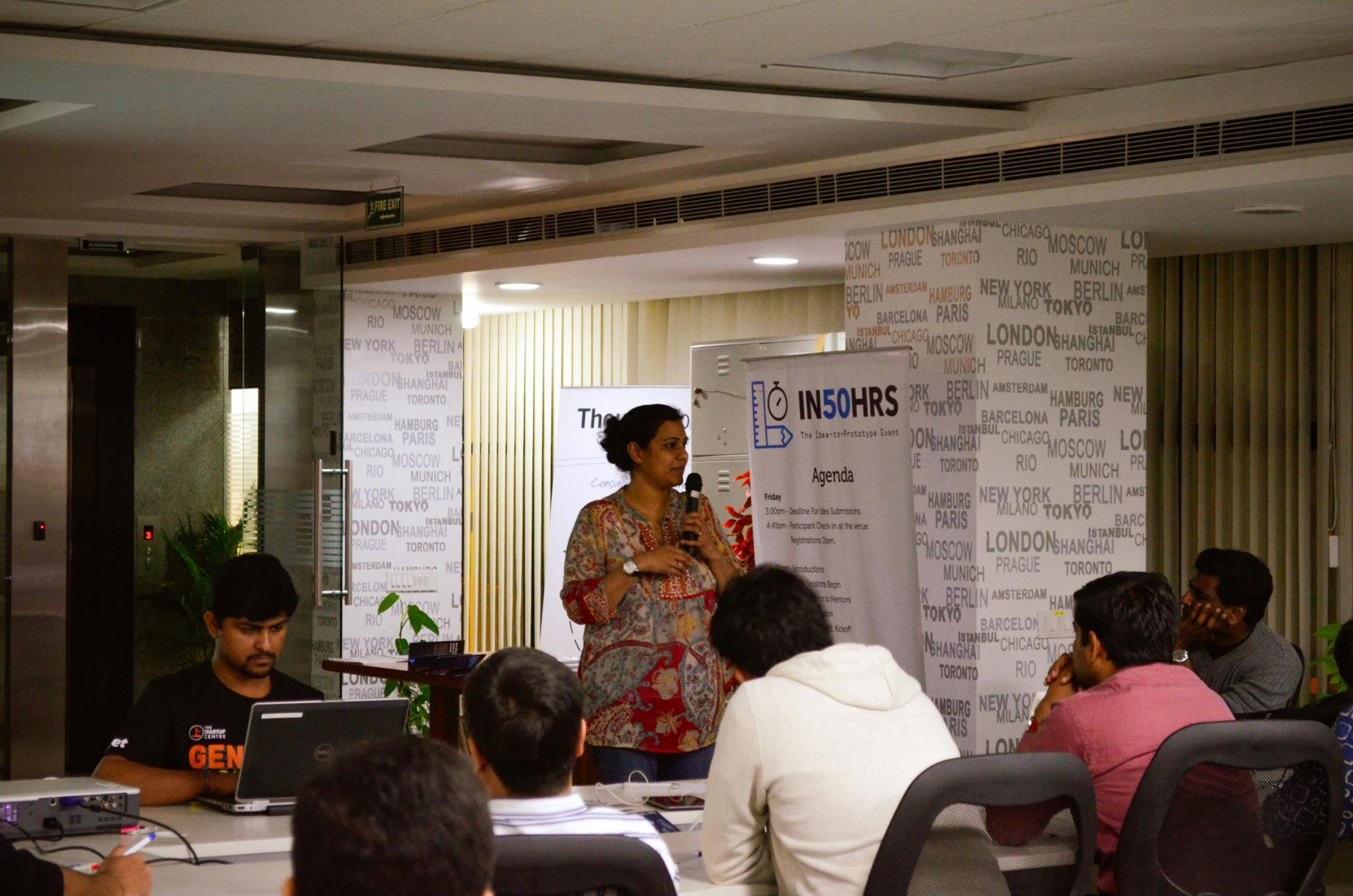 We had around 38 Participants with 8 Mentors and 7 Jurors at the Venue, ThoughtWorks and went house full during the Demo Evening.
List of Prototypes that got demoed -
Hunger Free India: A Portal to give away excess food cooked. India is a country where population needs no mention. Everyday, we hear about hunger-stricken stories and at the same time, amount of food wastage that's done in several restaurants, malls and such. Hunger Free India aims at solving the problem by connecting Food Donors to Takers to achieve a Hunger Free India.
SocioG: A Kickstarter for High Impactful Social Causes. Every time we come come across a newspaper article that talks about something cool, something innovative, something that could be a social game changer, we have a slight rush of blood in the head to help such causes solve big problems. SocioG helps you discover such projects and lets you be a part of it.
G-Track: Realtime Tracking of Heavy Vehicles. It's a tremendous pain for a logistic chain to keep a track of all the shipments in real time and there is no cost effective solution in the market that could be viable to any. G-Track aims at solving the problem in a very simple fashion. Adding to that, they wanted to bring in on-the-fly fuel and engine check system on board
Get Driving: A Portal to find the best driving schools. Finding a nearby driving school from peers is fairly easy but when the point comes to finding good ones, women friendly, there is no way out. Get Driving is the perfect pitstop for that.
Speechly: A "Voice" based Social Network for Mobiles. In the current age of Open Social Networks, text has been 'the' only primary means of communications limiting interactions. Speechly aims at taking this a step further by enabling users to leave a voice message for people to interact. Aiming at Non-English speaking Countries and the Rural population set.
Source-it: Tech Enabling the Mom-and-Pop Shop. Every Time you wish to get something from a nearby 'Kirana' shop, you'd be like, "What's the number?", "Would they have it?" and so on. Source-it aims at solving the problem.
Real Estate GIS: Precise Real Estate data on a Map. Most site these days talk about 'availability' of places to buy, places to rent and so on. When it comes to the point of tapering to your needs, you are lost in oblivion. Real Estate GIS lets you find every tiniest detail of information you need in a very intuitive format, on a map.
50focal: Video Production and Publisher for Corporates. A lot of events happen in a company and most that happen, are internal. The video capture quality of most look as though they've come out of a blind alley as most are not really professional and even if they are, they are just put up on a hard disk and be long forgotten. 50focal aims at solving the problem also enabling the corporates to manage their video lot in a much better format.
My Share Plex: A portal to exchange unwanted goods. In this electronic era, we tend to buy just too many unwanted products and this, of late has become an ongoing phenomena. My Share Plex makes it easy for someone to put up their product on the website and the site automatically figures out the credibility of it, making it easy for anyone to buy it with ease.
One Bucket List: Bucket Listing Made Easy. Everybody dreams. Places, Cars, Exotic Food and what not. One Bucket List is exactly something one could crave for. Add all things awesome on mind that you wish to do and make sure things happen soon. The app is live at

http://onebucketlist.com
Keysome: Hotkeys for Everyone. "Too many browser tabs", "Isn't that Tab already open?" is pretty much a common thing you hear from your peers. Keysome, a Chrome browser plugin that helps you shift between tabs with just hot keys and predefined hotkeys that are shortcuts that would let you open frequently opened websites hassle-free. The website is live at

http://keysome.in
A Big Thank You to all the Mentors and Jury who helped shape Ideas to Interesting Prototypes with their valuable Inputs and Feedbacks.
Mentors - Vasudha Chandak from Practo, Hari Shankaran from HackerRank, Vaidhy from Apigee, Ravi Padaki from Pravi Solutions, Freeman Murray from Startup School, Venkat Mangudi from Venkat Mangudi Consulting, Prayank Swaroop from Accel Partners & Kiran Jonnalagadda from HasGeek.
Jurors - Shashank ND from Practo, Phanindra Sama from RedBus, Sanjay Anandaraman from SeedFund, Pallav Nadhani from Fusion Charts, Ketan Hajarnavis from ThoughtWorks, Sanjeev Gadre, Rohit Singhal from SourceBits.
Some great words about the event:
"Seeing ideas come to life and the infectious enthusiasm" - Venkat Mangudi
"Energy - Ideas - Enthusiasm - Hope - Fire in the Belly" - Ketan Hajarnavis
Facebook Photo Album of the event -> https://www.facebook.com/media/set/?set=a.513376592029199.119880.427343437299182&type=1&l=000e20a1a3
Registrations for In50hrs Pune are now OPEN.